Hotels in Avignon
Our top picks
Lowest price first
Nearest to
Best reviewed
Fast facts about Avignon, France
| | |
| --- | --- |
| Accommodations | 880 properties |
| Popular hotel | Hotel de l Horloge |
| Popular area | Avignon City Center |
| Nightly rates from | $29 |
| Airport | Avignon-Provence Airport |
4-star hotels in Avignon
8.4 Excellent
Based on 343 reviews
---
the room i stayed in had two rooms including bed room and living rooms with sofas and tables. each of them had very big windows which gave them lots of sunshine. furniture were pretty nice, including sofa in a nice design and really large-sized bed. bathroom was really large as well and looked very clean. i really liked the room. that really helped me to enjoy mys...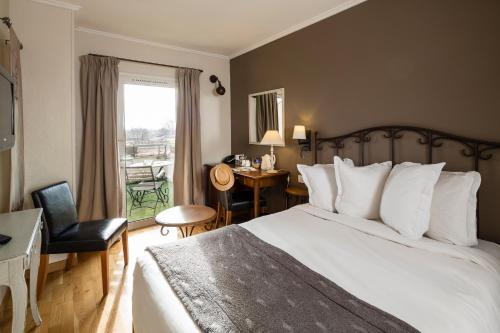 ---
Spent three nights here in a triple room with my parents when we visited Avignon in late April 2018. The hotel is ideal for traveller with a little budget to spare for centralised location within 5 minutes walk from city centre. The hotel room is spacious, with separate bathroom (with bathtub) and toilet. Our room even have coffee machine and views from both sides of t...
8.2 Excellent
Based on 101 reviews
---
Novotel Avignon Centre Hotel is our choice as transitional stop between TGV and rental car and it serve the purpose quite well. Gare Avignon Centre is just 5 minutes of walking and taking TER to TGV station is just 6 minutes.
8.5 Excellent
Based on 41 reviews
---
Located inside the walls of the ancient city. 2 minutes walk to restaurants. Very difficult to find if you are driving. Both Google Maps and the onboard GPS could not indicate the correct route, due to one way streets and blocked streets. If you are driving, stay on the road outside the walls, drive under the bridge (Pont d'Avignon) and then turn through the gateway at...
8.4 Excellent
Based on 52 reviews
---
hotel was about 10 minutes walk from the Avignon city centre train station. strategically located, just next to the Palais des Papes. Awesome restaurants around.
8.3 Excellent
Based on 134 reviews
---
This is a marvellous hotel - magical setting in lovely courtyard and shaded courtyard garden to eat in, minutes from train station and walking distance to all of Avignon sites, staff were especially friendly and helpful and roof top pool to cool off in - I thoroughly recommend it
---
Luxury hotels in Avignon
8.5 Excellent
Based on 10 reviews
---
Everything is excellent in this hotel chateau except that it is quite hard to locate. We were in a left handed car with narrrow road and GPS didn't do a good job. But overall experience still worth it! Check out the private cellar in the basement.
8.3 Excellent
Based on 6 reviews
---
Stayed for a week. Prestige room was sizeable and quiet. Great location for walking to many things. Staff very pleasant and helpful.
---
Real reviews for hotels
Avignon is the perfect base for exploring Provence. The town itself is fantastic - everything in walking distance.
Staying 2-3 nights in Avignon is more than enough to see all there is to see within the historical center (best part).
It is a historical city in south France. You also could travel around the city to see a lot of famouce landmarks.
take the free ferry boat to the other side of Avignon, the scenery is quite nice if you sit on the grass by the river - you will see the Palais des Papes, the Pont and the city of Avignon.
June is hot but the day is long the sky is still bright at 10 pm many tourists and friendly people. must go on tours to the tourist sites and see the villages
Avignon is a very nice and old city with a lot of nice places to visit. We strongly suggest to pay a visit.
---
Frequently asked questions
What are the best hotels in Avignon near Avignon-Provence Airport?
Verified travelers to Avignon who stayed nearby Avignon-Provence Airport have given top reviews to Maison de village Novissime, Clos St Pierre de Fraisse and Le Jardin des Amandiers.
What are the most popular hotels in Avignon?
Several of our most recognized accommodations in Avignon are Avignon Grand Hotel, Hotel Bristol and Mercure Avignon Gare TGV.
What's the top local neighborhood in Avignon to stay in?
Famous communities among tourists staying in Avignon include Avignon City Center, Saint Chamand and Avignon.
What are the most suitable properties in Avignon for solo tourists?
Accommodations around Avignon which are highly rated by individual vacationers are Avignon Grand Hotel, Hotel Bristol and ibis budget Avignon Centre.
What places to stay located in Avignon are very highly rated regarding facilities?
Propertiesfound in Avignon which is exceptionally rated regarding facilities include Les Precieuses Suites & Spa I, Aux Augustins Palais des Papes and My Pad Provence 2.
What are the recommended accommodations around Avignon with swimming pools?
Verified vacationers to Avignon have given excellent reviews regarding the swimming pools at Best Western Plus Le Lavarin, Ibis Avignon Sud and Cloitre Saint Louis.
What are the top properties in Avignon offering complimentary parking?
A hotel which has complimentary parking located in Avignon that is highly rated is Suite Caligula Avignon intramuros.
What are the most suitable hotels in Avignon that has airport transfer?
Properties offering airport transfer found in Avignon which are highly rated include La Divine Comedie-Suites Deluxe, La Divine Comedie-Suites Deluxe and La Divine Comedie-Suites Deluxe.
What's the best location for shopping in Avignon?
The best location for your shopping spree in Avignon is Avignon City Center.
What's the best place for sightseeing in Avignon?
A top area with plenty of tourist attractions in Avignon is Avignon City Center.
Is evidence of vaccination required to enter Avignon?
Proof of COVID-19 vaccination may be required to enter Avignon from outside the country. For additional information, please reach out to local authority or go to here.
What vaccines are recognized in Avignon?
All vaccination types are currently recognized and approved by the national health authority of the country that includes Avignon.
Explore more travel vacation rentals
More about Avignon
Discovering Avignon: Fun Facts and Must-See Attractions
Avignon, located in the south of France, is a city steeped in history and culture. The city was once the seat of the papacy in the 14th century and is now a UNESCO World Heritage Site. One of the most famous attractions in Avignon is the Palais des Papes, a massive fortress-like structure that was once the residence of the popes. Another must-see attraction is the Pont Saint-Bénézet, a 12th-century bridge that spans the Rhône River. Visitors can also explore the charming old town, which is filled with narrow streets, historic buildings, and quaint cafes.
Top Reasons to Visit Avignon: A Hidden Gem in France
Avignon is a hidden gem in France that is often overlooked by tourists. The city is known for its stunning architecture, rich history, and vibrant cultural scene. There are many reasons to visit Avignon, including the world-renowned Festival d'Avignon, which takes place every July and features a wide range of performances, from theater to dance to music. The city is also a great base for exploring the surrounding countryside, including the picturesque Luberon region and the stunning lavender fields of Provence.
Getting to Avignon: Tips on Transportation and Travel
Avignon is easily accessible by train, with regular services from Paris, Marseille, and other major cities in France. The city also has its own airport, Avignon-Provence Airport, which is served by several airlines, including Ryanair and Air France. Once in Avignon, visitors can explore the city on foot or by bike, as the city is relatively small and easy to navigate. There are also several local bus routes that connect the city with the surrounding areas.
Exploring Avignon: Fun Things to Do and See
There are plenty of fun things to do and see in Avignon, from exploring the city's historic landmarks to sampling the local cuisine. One of the most popular activities is visiting the Palais des Papes, where visitors can learn about the history of the papacy and explore the palace's many rooms and galleries. Another popular attraction is the Musée du Petit Palais, which houses a collection of medieval and Renaissance art. Visitors can also take a stroll through the Jardin des Doms, a beautiful public garden that offers stunning views of the city and the Rhône River.
Why Book Your Avignon Hotel with Agoda.com
Agoda.com is the perfect place to book your hotel in Avignon. With a wide range of hotels to choose from, including Hotel Restaurant la Ferme, Hotel Le Medieval, Hotel d'Angleterre, Au Saint Roch - Hotel et Jardin, and Altera Roma Hotel, you're sure to find the perfect accommodation for your needs. Agoda.com also offers great deals and discounts, making it easy to find a hotel that fits your budget. Plus, with Agoda.com's easy-to-use website and mobile app, booking your hotel in Avignon has never been easier.
The Best Time to Visit Avignon: Seasonal Guide
The best time to visit Avignon depends on your preferences and interests. If you're interested in the city's cultural scene, then July is the best time to visit, as this is when the Festival d'Avignon takes place. However, if you're looking for a quieter time to visit, then the spring and fall are great options, as the weather is mild and there are fewer crowds. The summer months can be hot and crowded, so it's best to come prepared with plenty of sunscreen and water.
Essential Tips for Travelers Visiting Avignon
If you're planning a trip to Avignon, there are a few essential tips to keep in mind. First, be sure to pack comfortable shoes, as the city's narrow streets and cobblestone alleys can be difficult to navigate in high heels or dress shoes. Second, be prepared for the heat if you're visiting in the summer, as temperatures can reach 30°C or higher. Third, be sure to try the local cuisine, which includes dishes like bouillabaisse, ratatouille, and tarte Tatin. Finally, be respectful of the city's historic landmarks and cultural heritage, and always ask before taking photos or touching anything.
Where to Stay in Avignon: Accommodation Guide
Avignon has a wide range of accommodation options, from budget-friendly hostels to luxury hotels. If you're looking for a budget-friendly option, then consider staying at Hotel Restaurant la Ferme or Au Saint Roch - Hotel et Jardin. Both hotels offer comfortable rooms and great amenities at an affordable price. If you're looking for something a bit more luxurious, then consider Hotel Le Medieval or Hotel d'Angleterre, both of which offer elegant rooms and top-notch service. Finally, if you're looking for something unique, then consider Altera Roma Hotel, a boutique hotel located in a historic building in the heart of the city.
Indulging in Avignon: What to Eat and Drink
Avignon is known for its delicious cuisine, which features fresh, local ingredients and traditional French flavors. Some of the must-try dishes include bouillabaisse, a fish stew made with local fish and shellfish, ratatouille, a vegetable stew made with eggplant, zucchini, and peppers, and tarte Tatin, a classic French dessert made with caramelized apples and puff pastry. Visitors can also indulge in the local wine, including the famous Châteauneuf-du-Pape, a full-bodied red wine that pairs perfectly with the local cuisine.